For those of us who are not naturally artists (visual arts, I mean), I find it so disappointing when I have a great idea for a painting, since I can't paint it. It sometimes happens right before I go to sleep, when all of a sudden, I see a beautiful image in my mind, in fantastic detail. Something like these (I just got these from Pinterest, I didn't paint them!):


I could probably explain the images I saw (there were about 10 in sequence that just popped into my head), but I would
never
be able to paint them. If I really wanted to, I guess I could take painting lessons, but I'm not really into actually painting a picture, so it's not worth it. This got me to thinking about a few things: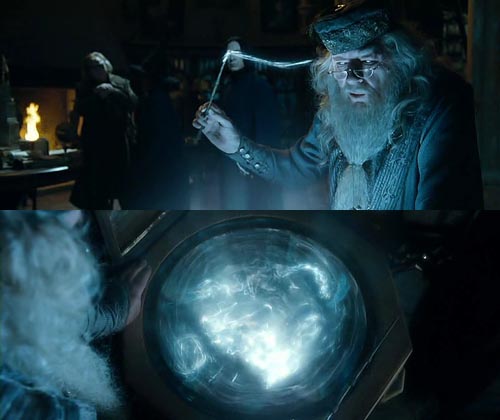 1) I need Dumbledore's pensieve. Desperately.
2) Where do these images come from? I can think of a lot of wild fantastical ideas, but they're probably no more than wild fantastical ideas.
3) There are different skill sets that go into any one art which don't always come together naturally in any one person. So for painting, you might have someone who can paint amazing pictures but couldn't come up with a new idea for one, or you could have someone who has awesome ideas that sometimes flash into their mind but they couldn't paint them for the world (I fit into the latter category).
So the artists who are successful have to have a good measure of both skills: to be able to paint, and to have great ideas of what to paint. The same goes for writing too. Ideas for writing are more comprehensive than a single image, but there are people who have great ideas for books but would never be able to write them (either by lack of skill or lack of really trying...I think most of the time it's lack of really trying), and people who write well, but they don't write about anything interesting since they have no good ideas.
So what do you do? I think people should pick the type of art (or other profession) that they actually want to do, and then "fill in their gaps" by trying to learn whatever skill their missing. For me, that's writing, even though I sometimes wish I could spontaneously be a painter for a day. As for filling in the gaps, I could definitely develop my skills with the mechanics of writing, especially with capturing characters, but fortunately for me, it's not as though I'm hopeless like I am with my cartoony drawings. I don't think I have any problems with getting ideas, though really, everyone's skills develop through time, so even in areas where we are "experts", we still have room to grow.
That's what is so great about art--painting, writing, etc. It's not that one day you will "get it" all of a sudden, like you can "get" how to add two numbers together and really can't progress to a higher level of adding two plus two. But there's always something new we can capture in writing, some skill we can improve on, or some better way to integrate our skills into creating a single piece. The same thing is true for painting, but a painter would be better at talking about that area than me.
So in a world with no pensieves or devices to capture your thoughts (yet! I'm optimistic though), we need to work harder to be creative. Maybe that's a good thing, though I would have loved to be able to capture my mental paintings.
Comments welcome! Does anyone else have amazing random images or ideas that would make a great story/painting?
Tweet